Hard and protective coatings production;

Reflective or anti reflective coating;

Polishing and chemical attacks on metals.
Science and Material Technology (S&MT) Laboratory has developed high competences in several precision techniques such as electrochemical deburring and thin film deposition. These methods, initially used to improve accelerating cavities performances, have recently been applied in different industrial fields: from textile to medical.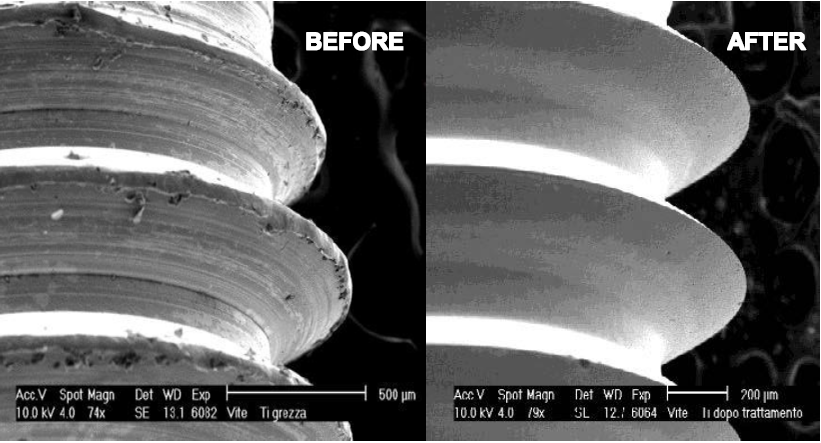 TECHNICAL FEATURES
In the field of Physical Vapor Deposition (PVD) treatments, S&MT Laboratory focuses its work on metallic thin films deposition over a wide range of different surfaces by means of magnetron sputtering techniques, HiPIMS and Plasma Enhanced CVD. S&MT achievements include the optimization of manufacturing techniques for solar mirrors and panels, hard and protective coating, getter materials and anti reflective coating. In addition, the vacuum brazing technique is applied for the manufacturing of resisting coatings, diamonds-based, for cutting tools, avoiding the electrochemical process that uses Nickel. Chemical and electrolytic deburring techniques allow the polishing of any metal surface even in areas where manual or mechanical processing methods are impractical or not suitable for quality, productivity or economic reasons.
POSSIBLE APPLICATIONS
Hard and protective coatings production;
Reflective or anti reflective coating;
Polishing and chemical attacks on metals.
These technologies have been applied in various fields:
Textile: functional and protective coating;
Medical: fine adjustment of prothesis and medical object in general;
Jeweller's: jewels polishing, coating with precious metals and/or protective coating.
ADVANTAGES
Protective coatings capable of withstanding the most critical conditions, preserving the product from corrosion and/or wear;
Brazing diamond coating: efficiency and resistance higher than traditional technique;
Chemical deburring: cost effective and easier to use;
Electrolytical deburring: process faster than other methods.
Keywords: Materials | PVD | Metallic Film Deposition | Diamond-based Coating | Metal Polishing | Sputtering |Electrochemistry